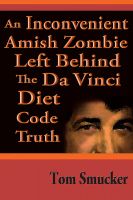 Summary: Goya? Bad Diets? Mud Hens? The Rapture? The War of 1812? Global Warming? Til Eulenspiegel? Political Conspiracy? Violence on USA borders? The lost history of Soft Rock? Follow the non-stop action from the museums and cafes of Paris to the fast food rest stops and motels on the highways of Ohio, as past and future collide and create an apocalyptical present that determines the fate of the planet.
An Inconvenient Amish Zombie
is a mystery book saturated in satire. It has a myriad of characters, and as far as I can tell, it most closely satirizes
The DaVinci Code
and
Left Behind
. While the book's quirkiness made for a fun read, there were simply too many characters and too many plotlines for me to become invested in the book;
3.5 stars
out of 5.
The novel lacked connectedness, especially at the beginning; too many characters were introduced without any concrete anchor into the story. I did enjoy the references to pop culture and these aspects were well written, however it felt a little too all over the place. That being said, it is very witty and I could easily see this book finding a niche among apocalypse/satire loving readers.
Amazon (
6.99
)